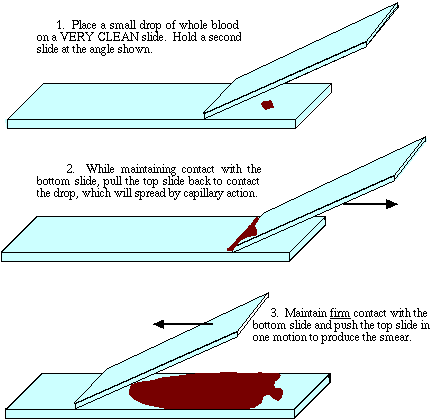 The very first day in my laboratory, the first lab for smearing practice; I found it terribly hard to smear my slide with blood; Oh... I started begging my friends to smear my slide ,
after 18 continuous failure attempts;
Finally, none helped me; Because , they too were struggling to smear!!! lol!!! Ya, only a few in the lab managed to smear correctly! myself like mohammed gazni tried attempting and got it "ok" at last in my 25th attempt! That too, we have to smear our slide & get it confirmed as right or wrong from our mam who was the in charge for the lab. Every time, when i shown her my slide, she just said " no., this is not good, repeat! you didn't get the tail region of the smear properly!". I feel like "grrrr....". I didn't lose hope; tried & tried , finally got it somewhat right! then i continued with lieshman staining! The staining came good. Then I went to my microscope in search of
" eosinophils, basophils, neutrophils, monocytes ..." . "oooofff..."
I didn't find an eosinophil in that sample till last; I was keenly searching...! Mam arrived and said at last
" oh, you won't find Eosinophils and basophils that much easier!!! "
.
"oh gosh!, then, why I was searching for it at first , leaving all the others in the list!!!!"
I go mad at times in my lab. But, anyways, biotech lab is fun filled with lively dancing cell's show!!! Searching something in my microscope , " I feel and enjoy like Hide & Seek" :D :D :D :D :P